Xump 2 ~Back To Space~
The game was orinally meant to be a simple port of the Xump - The Final Run by Retroguru. Ultimately it became a sequel. It was presented at the Revision 2017 in the Game Compo, that it won (at my own surprise). A more complete and polished version was released in 2021. At first a cartridge version, then the free version.
I released later an Alternative Edition, "AE", more like i wished to released it.
Download
Features
Original edition
48 levels with extras to unlock
SRAM save system
Region free
Optimized for 60 Hz and 50 Hz
Alternative edition
128 levels
Password system
Region free
Optimized for 60 Hz only (it performs at slower speed on 50 Hz console)
Scoring system with multiplier
Extra to discover
Specifications
Platform :

Sega Megadrive/Genesis

Genre :

Puzzle game

Release year :

2021

Status :

Complete

Language :

English

Development : C (SGDK v1.34)
Screenshots
Original edition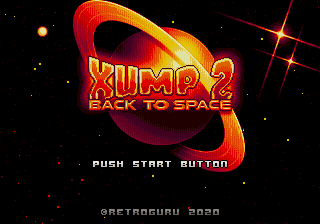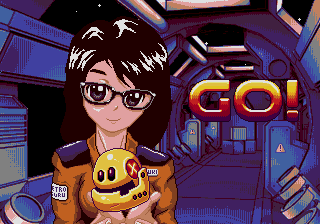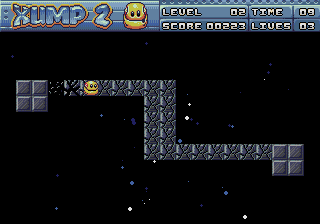 Alternative edition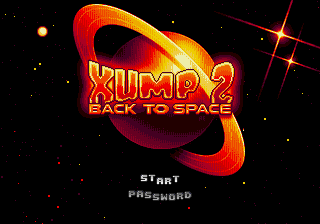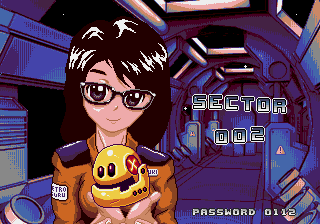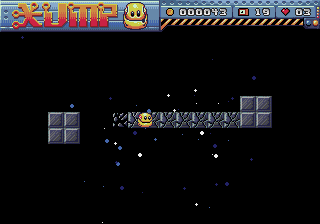 Credits
Overview
Your main task is to clean all dissolving tiles on several single-screen levels by simply stepping on them, one by one. Few fields are secured with mines and need a double tap. Mines can be blown up when passing by or disarmed by Xump when staying on this specific field for a short moment. Certainly the mission sounds easier than it will be.